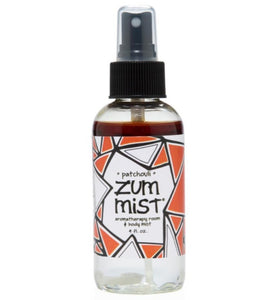 Aromatherapy room and body spray
Spray your way to mind-altering bliss with this down-to-earth, free-loving fragrance. Musky, earthy aromas keep the vibe mellow with Zum Patchouli Spray. Spritz when the air around you is funky or to uplift your aura and atmosphere around you. Spray away in the car, closet, drawers, bathroom, and yes, even yourself. Indigo Wild Zum Mist Patchouli is sure to become your new spray mainstay.
With water, essential oils, and zero chemical emulsifiers, this patchouli body spray is naturally designed to never overwhelm you with too-strong scents.
Scent Profile: Patchouli has a strong, sweet scent that is spicy, earthy, and musky. a deeply earthy and muscled musky scent with a hint of sweetness.